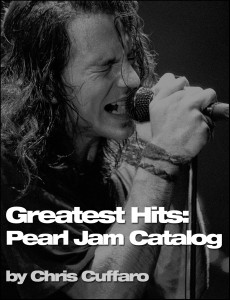 YO!  So happy to announce my latest photography catalog Greatest Hits: Pearl Jam.  This is a collection of photos I shot from 1991 to 1992 with the band.  I was lucky to be there for these amazing moments and get these brilliant photos.  Good times with good friends.
Pearl Jam and 1991 will always be special for me.  I'm beyond grateful for their trust in me and for giving me the access to get all these amazing images.  The band trusted me enough to let me direct my first music video with them.  Seriously, how cool is that?  I still hold all those experiences close to my heart.  Some of the best times of my career and life were with Pearl Jam.  Thank you.
GO to CuffaroShop.com to ORDER it today!