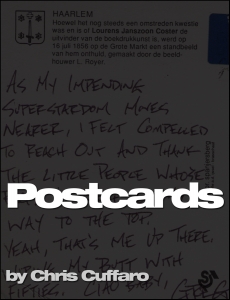 When was the last time you sent or received a postcard?  Do you even know what a postcard is?  I hope so.  I miss them big time.  They were a big thing back in the day.  I use to love sending them and even more getting them.  It was always fun to get a postcard from a friend who was on the road.  Even it was just the card with no words.  Just knowing that they thought of me made me smile.  I saved everyone of my postcards.  I have a big box of them and its an awesome collection.
I'm posting a couple of my favorites here.  Check out the front and the back.  Super cool and fun.  It also funny to see how much a stamp cost back in the day.  The whole thing is very nostalgic.  It makes me miss the good old days and so happy that I had some!
With my project Greatest Hits I'm trying to bring the postcard back!  I'm going old school on you and everyone.  I want to show everyone how cool they are.  I'm printing some of my favorite images and making cool sets.  You gotta see them, because I know you'll love them.  If you donated to my Seed&Spark campaign you will see them very soon.