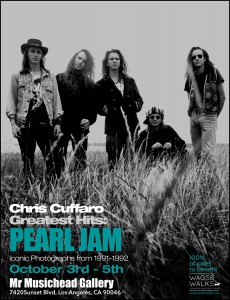 Way back on July 21st, 1991 I did my first photo shoot with the band Pearl Jam in New York City. It was after their Sub Pop showcase at the CMJ show. Why they were performing there is beyond me, but it was my first time seeing them play live and it was awesome. Meeting them the next day and shooting them was icing on the cake.
I spent over a year shooting, documenting, hanging out with and getting to know the band. Shoots in New York, Seattle and Dallas. Was lucky enough to spend time on tour when they opened for the Red Hot Chili Peppers and Smashing Pumpkins. Personal moments with Eddie Vedder that I cherish to this day. And then directing my first video for the song Jeremy. So many great memories that changed my life and as always I have the photos to prove it!
From the iconic photos you know to the never seen before photos, Greatest Hits: Pearl Jam celebrates those amazing moments and experiences. A complete collection of my time with the Hall of Fame band Pearl Jam.
For 3 DAYS ONLY at Mr Musichead Gallery I will be showing this collection. From October 3rd to 5th you can check these amazing moments of Pearl Jam.
ALL 100% of Sales will benefit Wag&Walks Dog Rescue!!!
Mr Musichead Gallery
7420 West Sunset Blvd.
Los Angeles, CA 90046
#323.876.0042
mrmusichead.com