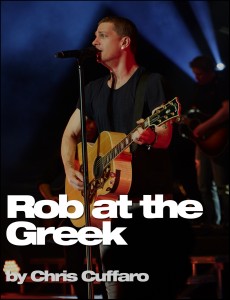 I just did something that I hadn't done in 14 years!  I shot a concert!!!  Woo hoo!  I shot Rob Thomas at The Greek Theatre for fun.  Holy fuck it was fun!  I forgot how much I loved shooting concerts!  Running around backstage, hanging with musicians, shooting from the pit and just doing my thing!  Rob is SO good live and always does a great show.  His fans know every song and are so connected!  The band is fucking tight and talented.  The energy of the show is amazing!
A couple things that happened during the show for me.  First, It brought back a lot of great memories.  There was a moment towards the end of the show where I just had to stop, take a step back and look around at where I was & what I was doing.  It reminded me of how lucky I am to do what I love for so long!  I said thank you and got back to work.  The second moment was having the trust of Rob and the mangers to let me do my thing.  These days everyone is paranoid when it comes to photos & content.  I understand it all to well, but I pride myself in the fact I can be trusted.  Means a lot when the artist, his people, the clients and everyone involved can trust you.  #Grateful  #Integrity #GoodTimes
One last thought… This show gave me the itch.  Makes me want to get back in the pit and shoot some shows.  I'm not sure I can or will, but I like the idea that I'm thinking about it.  I always loved shooting live shows and the feeling I got from it.  I loved capturing that special moment when everything was perfect.  That feeling when you go over the results and find that one special image.  Fucking brilliant!