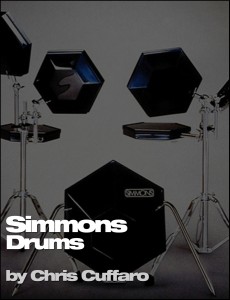 Way back in 1984 one of my first big jobs/projects was for a great friend David Levine.  At the time he was working for Simmons Drums and hired me to shoot a project he dreamed up.  A promo book called 25 Drummers Who Electrified the World.  At the time Simmons Drums was a big deal.  Their drums where being played by every drummer and you could hear them on so many records.
Meeting and shooting some of the best drummers in the world was the biggest thrill.  I got to shoot in Los Angeles, Nashville, New York and England.  It was my first time flying anywhere.  I was 24 years old and everything was so exciting.  Going to Nashville I got to shoot Larry Londin & met with Tommy Lee while on tour.  In New York I got to shoot legends Peter Erskine, Omar Hakim and others.  The UK was ALL about Phil Collins!  Los Angeles was everyone else.  This was BIG at the time and looking back now it was even BIGGER!
Simmons printed a cool book from these photos that not only had my portraits, but showed the drummers set-up & info.  I still have copies of this book and so proud of it.  After this David worked for Drum Workshop and many other drum companies.  I ended up shooting catalogs, product shots and more drummers.  I think I've shot over 250+ drummers.  I think I know more about drums than I really want to know.