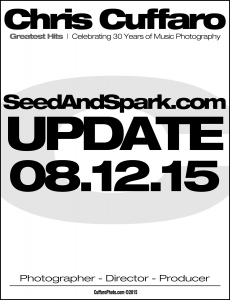 Holy Fuck!  We have 6 days to go!  Seriously though, where does the time go?  We started on July 15th and the time has gone by so fast!  We have not reached our goal of 150k just yet…  we are currently at 30% and counting.  This is our big final push.  PLEASE go to our Seed&Spark page today and JOIN us to make this documentary a reality.  I know times are tough and you're busy people.  Always remember it's better to get it done now rather than later.  Every little bit counts so give what you can… $5.00, $25.00, $100.00 or $1000.00… Whatever you can donate helps a ton.  After you've done your part, please share it with your friends and family.  This is called crowdfunding for a reason.  Building a crowd only happens with your involvement.  Just do it!
This week is our final push so we decided to up the ante and throw in an extra incentive.  DOUBLE PRINTS.  That's right!  Donate those coins in your pocket and receive double the amount of listed prints.  Only 5? No way, you'll receive 10.  Instead of 10, 20.  Rad!  These prints are exhibition quality and collector's items.  Keep them as mementos for yourself or gift them to someone special.  They will for sure dig the nostalgia in the photographic pieces of music history.
So, please go to SeedAndSpark.com NOW and DONATE to be a part of this exciting project.
Share #GreatestHits on Twitter | Share Greatest Hits on Facebook