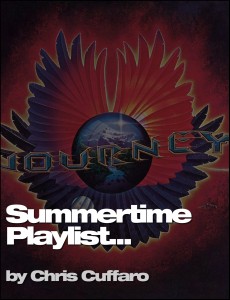 Yo! Summer is here and I couldn't be happier. I love summer, the heat, the sunshine and the beach! Bring it on! My goal this year is to hit the beach at least once a week. Here's a list of 10 CD's/albums that are perfect for summertime…
Earth, Wind & Fire | Gratitude – Probably my favorite of ALL time. "Can I hear you say yea!"
Journey | Infinity – Makes me smile.
Santana | Moonflower – Double album and double fun! Perfection.
ABC | Lexicon of Love – The perfect 80's experience.
Stone Temple Pilots | Core – Crank it up loud while you drive up PCH to the Zuma Beach!
Pearl Jam | Ten – Always feels good and brings back good memories.
Genesis | Abacab – Love this from beginning to end.
Bob Marley | Legend – The best shit ever!!! Fuck yea bro!
Jane's Addiction | Nothing Shocking – I never get tired of this classic. I love playing it loud when I drive around town with my windows down.
Temple of the Dog | Temple of the Dog – Perfect for a summer night.