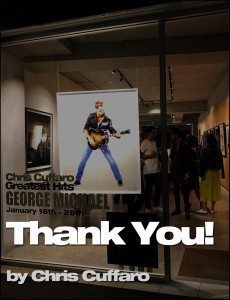 Hey! Just got back from Sydney, Australia on Saturday. A BIG THANK YOU to everyone involved for such an awesome trip. Sydney has ALWAYS been my favorite place to go and this trip solidified it for sure! It was simply life changing in so many ways. So many amazing experiences with some great surprises along the way.
First I want to thank Black Eye Gallery for sharing my first Greatest Hits: George Michael exhibition. The best part was I got to meet so many George Michael fans. To ALL the fans that showed up… THANK YOU! To meet you in person was an honor! To hear your stories about your passion & love for George blew my mind. A super special thank you to all the fans that came from afar (New Zealand, Melbourne, Perth, Newcastle and beyond).
To all my old friends and new friends who came to my opening night party… Thank you! Thank God I got photos and video cuz it was a total blur. Thanks to Adam & Joseph for capturing everything! To my amazing publicist Sarah Jane Wilson… thanks for putting up with me. I know I'm not easy, but I am fun.
I had so much fun hanging out and living the Bondi Beach life. Bondi is my home away from home. I know I was bad and ate all my bad foods, but it was so worth it. Waking up next to Bondi Beach everyday is magical and so healthy. I'm gonna miss it everyday, but since I know I will be back sooner than later I'll be OK. And yes I did go for a swim.
A special thanks goes out to my best friends… Kim, Bradley, Johnny, Kimba and Lucien for supporting me and my vision! Your help means more than you know.
I also want to share a quick moment… So many of the fans were visibly moved by the images of George. I totally understand. Lots of bittersweet tears of sadness and joy. You all made me realize how lucky I've been to do what I love for over 45 years now and how much my images impact people from around the world. At one point during the show I went outside and stood across the street. I stared back at the gallery, looked at everyone inside and shed a few tears thinking about how grateful I am for all that is my crazy life. I thought about ALL that photography has given me and that is EVERYTHING!!!
Last and definitely not least… This is just the beginning. I am taking this exhibition around the world so ALL the George Michael fans can celebrate a brilliant man. I've said many times before… George changed my life in so many ways. I will always be grateful for all that he did. Thank You and Stay Tuned!!!