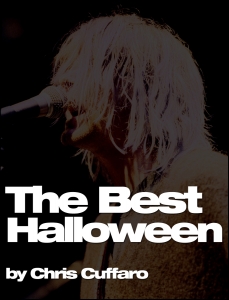 With Halloween around the corner it got me thinking about this strange holiday and I tried to remember my favorite Halloween.  Was it when I was a kid and got tons of candy?  Was it some random party where I got drunk?  NO, it was neither.  It was back on October 31st, 1991 in Seattle and actually it was the day before to be exact.
On Halloween night in Seattle, Nirvana was playing at The Paramount Theatre with Mudhoney opening the show.  I was so looking forward to this show, but honestly it wasn't all that great in the end.  I sat on the side of the stage and enjoyed every bit of it, but both bands were tired from the night before.  The fun part was watching them film the show for a DVD.  I've seen it on TV many times and caught a glimpse of me in the background.  Spooky!
BUT it was the night before that truly rocked my ass off.  Nirvana & Mudhoney at The Commodore Ballroom in Vancouver, Canada.  This space was small and very tight.  It was an old ballroom and the dance floor was on springs.  I had seen Nirvana many times before, but this show was by far the best show ever!  Mudhoney was fucking amazing and on their game!  We stood in the middle of the dance floor packed like sardines and road the wave of everyone moshing their asses of.  People were bouncing, diving, rolling, pushing and just having the best time ever.  This show was one of my top 10 favorites ever!  I'll never forget it and to this day I hate myself for not bringing a camera.  Such a loser.  Please forgive me.