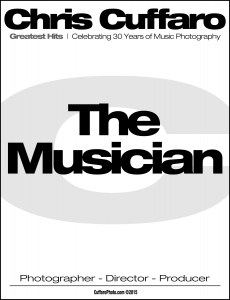 Next to my hero photographers Richard Avedon, Irving Penn and David Bailey musicians were my biggest heroes when I was young.  I always had so much respect for anyone who could create music.  Being around them all these years and having intense conversations has been one of the best parts of my career.  I have heard so many stories about their lives and love of music.  How they started and why they love music so much.  The stories and conversations have made my life so much richer!
I love watching musicians create with other musicians.  I love watching them do their thing.  I've been blessed to see so many great music moments and I have the photos to prove it.  A few highlights: seeing Jane's Addiction's "last show" in 1991, seeing Fugazi in the middle of the desert with Eddie Vedder, seeing the great Nirvana/Mudhoney show in Vancouver on October 30th 1991, seeing U2 at The Sports Arena during The Joshua Tree Tour, seeing Prince at The Country Club in Reseda after the MTV awards, the recording sessions for the Back Beat Soundtrack, my first concert Return To Forever at The Berkley Community Theatre in 1976 and SO MANY MORE!
This exhibition and documentary are about those stories. The Greatest Hits are the stories. They are the memories brought to the surface by these photos, these moments captured in time.
If you haven't already, please check out our Wishlist on SeedAndSpark.com and contribute to be a part of this exciting project.
Share #GreatestHits on Twitter | Share Greatest Hits on Facebook