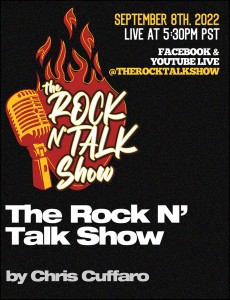 YO!  I'm super excited to JOIN @TheRockNTalkSh1 on SEPTEMBER 8th at 5:30p PST to talk about my Greatest Hits: Jane's Addiction exhibition & share some stories!  Woo hoo!
In celebration of my upcoming exhibition Greatest Hits: Jane's Addiction, I have 5 – 17"x22" fine art prints of Jane's Addiction to giveaway!  Here's what you gotta do…
– To qualify, follow both @therockntalkshow and @thecuffarophoto on Instagram.
– Find the ad and share it.
– Tag 5 friends and @cuffarophoto and @therockntalkshow.
– Be sure to leave a hashtag in the comments: #CUFFARO915.
– We'll pick winners to be announced on September 8 LIVE so tune in!!
‼️ SEE YOU THERE ‼️
LINKS
WEB: http://rockntalkshow.com 
FACEBOOK: https://www.facebook.com/therockntalkshow/ 
YOUTUBE: https://www.youtube.com/channel/UCPaQEqoVwfBmyIzEExDQEJw