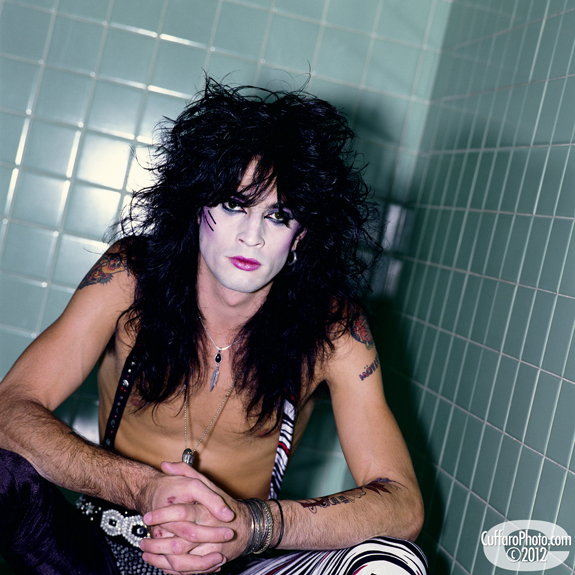 My first trip to Nashville, TN was NOT to shoot a country star, but rather, it was to meet Motley Crue and shoot Tommy Lee for Simmons Drums.  Do you remember Simmons Drums?  They were some of the first electronic drums on the market and every drummer in the world was using them, even Tommy.
I was flown to Nashville to meet him back stage before his show.  I got there before soundcheck and waited for the band to arrive.  I thought this would take an hour at most and then get back to my hotel.  NOT!  The band showed up late, Tommy was not in the mood to shoot and they made me wait till he was.  I have to say, it was an entertaining wait.  I was able to watch soundcheck and I even got to watch the band pick out groupies for some fun.
Once the boys were through and tommy got his make-up on, I set up in the only place I could find to shoot in: the bathroom.  I got 5 minutes to shoot before he went on stage.  Shot two rolls of film and that was it.  Next thing I know, he walks out and is on his way to the show.  Quick and dirty.  I got to watch the show and needless to say, it was pretty fucking crazy!  Motley Crue in Nashville …too strange for sure.
Follow me on Twitter