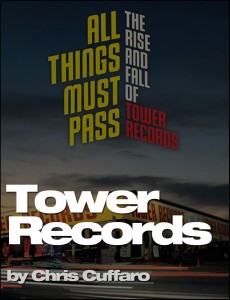 I just saw the documentary All Things Must Pass last week.  It was a fun documentary to watch and I think Colin Hanks did a great job.  It brought back a lot of great memories.  I use to spend a lot of time and money there.  Not enough time and way too much money!  I remember going there one crazy day and spending $2000.00 on a ton of CD's.  A bit too much, but it was so much fun.
Tower Records was a BIG part of my music life!  I use to go to Tower on Sunset anytime I could or needed some fresh music.  I use to go the New York ones as well.  I remember going to my first one in San Jose where I grew up.  I remember going to buy tickets for concerts for all my favorite bands.  So many great memories from back in the day!
What I liked about the doc was learning the history and hearing the behind the scenes stories.  I like any documentary that teaches me something I didn't know.  It also gave me lots of ideas for my documentary.  We're in the middle of mine and we have the story, but there is always room for fresh ideas.  I do have to say that I will probably watch again just for fun.  Good job Colin!