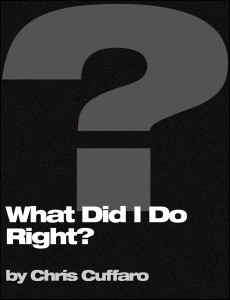 A good question.  I ask myself all the time.  I'll be honest.  I'm not happy.  Haven't been happy for a while.  I sit and think a lot about a lot.  I like to reflect and think about what I can do better now!  What did I learn from all these years?  What did I do right?
I would love to think I did more right than wrong.  I would like to think my closest friends would agree.  I do think I've always tried to do what is right and not what is easy.  I take pride in my work ethic!  I take even more pride in knowing that I have given everything my best always.  No matter what life brings me or drops on my head, I just do my best.
One thing I know I've done right is to help others.  I do my best to help anyone who asks for help.  I do what I can when I can.  Sometimes too much and it bites me in the ass.  Some say I'm too nice and get used.  Some say I need to have better boundaries.  Some say, UGH… I'm the one saying this.  I also say I can do better!
I'm at a crossroads in life.  There are fewer days ahead of me than behind me.  I think about my past and smile.  It's never been easy, but I've always had fun.  I think about what I did right and I have to say just about everything.  I have lived and learned!!!  The most important lesson I learned… love to live and live to love!!!