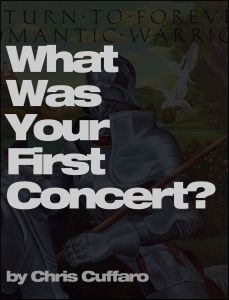 This is my question of questions!  I think I've asked this of everyone I have ever shot.  I have found this question is the best question for many reasons and here's why.  First, everyone remembers their first concert and if you don't you're a loser.  Second, I think first concerts say a lot of who you are and where you were.  Also says a lot of when you were born & the kind of family you have.  Third, everyone has a great story of their first show and I've heard so many great ones.  Everything from Elvis Presley to KISS.  Fourth, everyone loves music and loves to talk about music.  Its a great way to start a conversation to someone you don't know or are about to shoot.  Fifth, for musicians I always feel its the spark that lights the passion.  I can't tell you how many musicians told me seeing their first show made them wanna be a musician.
My first show was Return To Forever in 1976 at the Berkley Community Theatre in Berkley, CA.  The band was out playing their entire album Romantic Warrior.  I remember this show like it was yesterday.  Amazing!  I loved jazz, love all kinds of music, but this show was extra special.  Stanley Clarke, Al Di Meola, Lenny White and Chick Corea at their best.  They played the who album from beginning to end and then followed up with some classics from previous albums No Mystery and Where Have I Known You Before.  Fast forward many years later and I was blessed to not only meet these guys, but I shot Stanley Clarke many times.  I shot a couple album covers for him as well.  Got to hang out and just get to know the man.  Lucky me!  And this is one of the many reasons I do what I do.
Follow ME on Twitter!!