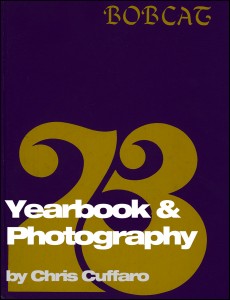 It all began way back in 1972… my first photography and Yearbook class!  Yes, I was that kid walking around with a camera around his neck from 7th to 12th grade.  Don't laugh it was super cool at the time.  NOT!!  I loved photography so much the only way to do photography was to be in Yearbook class.  Looking back on it now I see it helped me understand design and fonts.  You gotta understand this was before digital & computers.  Layouts were done by actually cutting a pasting text and photos onto physical layouts.  Crazy!
When I was in 7th grade a made a rubber stamp "Photography by Chris Cuffaro" and I would stamp every photo I shot when signing a friends Yearbook.  I wanted them to know what shots were mine.  I wanted my credit even then.  After 6 years of working on my Yearbooks I look back at them and smile.  I did good work and I'm proud of it.
I'm gonna dig them up from my vault and scan some of my work.  I think you might be surprised on how good some of it is.  You can see of my high school photos here… http://www.cuffaro50.com/gallery-high-school-life/  Don'l laugh too loud, it was the 70's and the only camera I had was a Minolta SRT101.  Ugh.