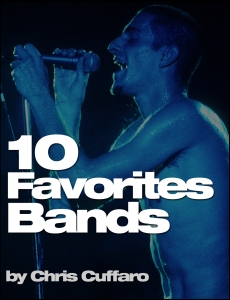 This is NOT going to be easy,  but I'm going to try.  I have so many bands that I love from all kinds of music.  These are my favorites that I never get tired of.  I love  the fact that their music is great and will last a FOREVER.  Most of all they always make me smile.  Here we go, wish me luck!
Earth, Wind & Fire – I saw them 6 times when I was in High School.
Nirvana – duh!
Jane's Addiction – the best of the best!  Nothing like them ever!
Rufus & Chaka Khan – at their best, they were the best.
The Beatles – legendary!
Fugazi – gods!
Graham Central Station – Funky!!!
Return to Forever – the Beatles of jazz fusion.
INXS – I never get tired of listening to them.
Underworld – living legends.