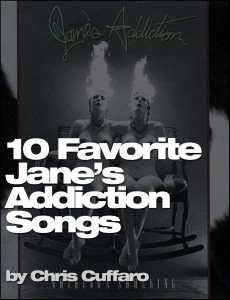 You know I love Jane's Addiction.  You know this because I have the photos to prove it.  The first time I saw them was in 1989 in Santa Barbara.  My good friends Mary's Danish opened for them.  I sat on the side of the stage and was blown away.  NO lie… It changed my life.  It was insane and it blew me away!  From that day on I was obsessed and could not stop listening to anything they put out.  Here's 10 of my favorites!!!  Crank it up yo!
3 Days – this is my jam yo!
Mountain Song – coming down the mountain!!!
Whores – the opening riff by Eric is fucking brilliant!
Ain't No Right – this song is so right!
Ted, Just Admit It… – best song for a stripper!
Idiots Rule – yes they do.
Jane Says – yes she does.
Stop – please don't.
I Would For You – really, would you?
Ocean Size – its XXL.