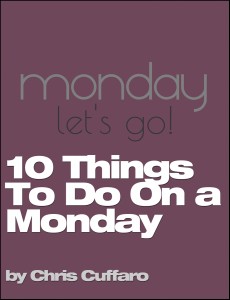 Every day is a work day.  Everyday I'm open for business.  I've always scheduled my days and weeks out.  Always planning ahead.  Here's 10 things to do on a Monday…
Coffee – make sure I have a good cup before I start my day.
Emails – go through my list and send out emails to my people.
Clean Up – Clean up my messy weekend.
Calls – create my call list.

 

Make my calls.
Post Production – make my list and do my list of post production work.

 

There is ALWAYS something to do.
Walk – Go for a walk!

 

Get out and walk!!!

 

Need it.
Social Media – make my plan for the week.

 

Always plan ahead.
Meetings – do my meetings at home or online.
Weed – Smoke some weed at the end of the day!
Sleep – At the end of the day, be grateful and get my sleep on!

 

Good sleep is good health.