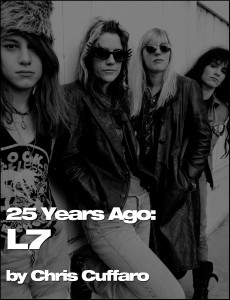 02.23.92 | L7 – Rolling Stone
My first and only shoot with one of my favorite grunge bands of the 90's. I saw L7 play many times and they fucking rocked! I had met them before this shoot so I knew them a bit. This shoot was quick and easy. We shot at my favorite studio Studio 46 on Pico Blvd. The same place I directed my music video with Pearl Jam back in October 1991.
I remember the grrls showing up ready to go. I got like an hour to shoot what I could. It was for a small article so the budget was super small if any. Shooting for Rolling Stone was always good. My goal was to shoot quick and move on. I took them out back behind the studio. Lined them up against the wall and shot! What I love about this shoot and the photos is that it really captures the band. It captures that time so well. L7 rocked then and still do to this day!