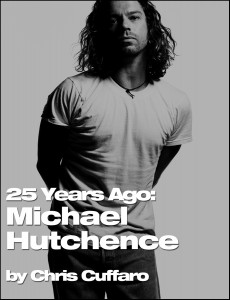 10.01.93 – Michael Hutchence | Detour Magazine
Here we are 25 years after this iconic photo shoot with the legendary Michael Hutchence. What can I say that I haven't said already? This shoot with one of my favorite rock stars is in my Top 10 best shoots ever. For many reasons, but here's a few.
First, I love INXS! Shooting them in 1988 and hanging around them was one the best times ever. I don't think there's an album I don't like (AND yes, I said album). Second, Michael was so nice to me every time I saw him and then at this shoot. Just one of those special people who stand out above the rest. Third, so fucking photogenic! For fuck sake the camera loved Michael and yes, Michael loved the camera. Fourth, at this time I really think Michael was looking great so I'm so happy I got to shoot him then. Last, when I look at the whole shoot I smile big cuz there are a ton of amazing photos. Some that I have shared and many I have not.
In conclusion… Michael had "IT". I'm just happy I got to capture "IT".