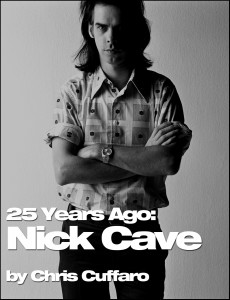 12.08.91 – Nick Cave | Elektra Records
I got the call from my good friend publicist Lisa Millman at Elektra Records to shoot Nick Cave & the Bad Seeds. I have to be honest, did not know a lot about Nick or the band. I was told he was easy to shoot and not the happiest guy to work with. The shoot was on a Sunday at the amazing Studio 46.
The band showed up ready to go. Nick showed up grumpy and quiet. I tried to keep the energy positive and up. Was not easy. We didn't have a lot of time, but I knew I could get the label what they needed and wanted. AGAIN… Kept it simple. I did four different set-ups with the band and a couple portraits of Nick. When I think back at this shoot I can't remember one thing that Nick said. He didn't talk much, but the rest of the band did.
At the end of the day all that matters with any shoot is the results. I honestly don't care if anyone is nice. I don't really care if they like doing photo shoots. All I care about is getting great art. This shoot gave me all that and more. Thanks Nick for being you!