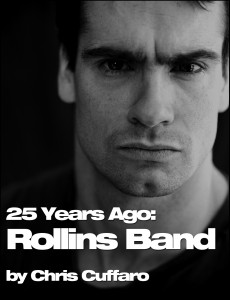 01.31.92 – Rollins Band | Imago Records
It took a while, but I finally got to shoot Henry Rollins! I had seen the Rollins Band play Lollapalooza a bunch of times, but this was my chance to have them all to myself. We did the shoot at a studio in Santa Monica. I think it was the original Smash Box, not sure. It was an easy shoot. The band was mellow and Henry very cool.
What I remember most was my friends challenging me to try and get Henry to smile. He was so serious with his image and look. I had no problem at all. Henry was in a good mood and the band followed. I got lots of pix of him smiling and more. My favorite shot is the one you see. The close-up!! His eyes are so intense and he looks so serious. So Henry!!!