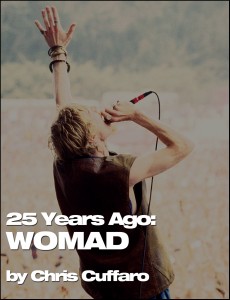 09.18/19.93 – WOMAD | Shattered PR
This was an epic two days! Like fucking AMAZING!!! Like seriously super fucking fun! My great friend Cathy Watson hooked this up and I will always thank her for that. The 1993 WOMAD festival was Peter Gabriel's idea. I got to go to and shoot the LA show at Cal State Dominguez Hills and the San Francisco show at Golden Gate Park.
The line-up was insane! Peter Gabriel w/Sinead O'Connor, Crowded House, Ziggy Marley, PM Dawn, Stereo MC's, Sheila Chandra, Drummers of Burundi and so many more!!! I was lucky to have a laminate so I got to go anywhere I wanted. Shoot whatever I wanted! Of course I spent most of the time on the side of the stage! Shot as much as I could, but I just enjoyed all the performances. My favorite was Stereo MC's by far!!! I loved Ziggy and Peter, but Stereo MC's blew me away!!!
Every time I hear any of these bands now I think back of those two unforgettable days. I think about the fun, the performances and my great friend Cathy Watson. Woo hoo!!!