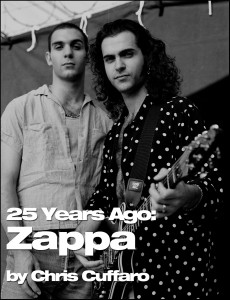 08.10.93 – Dweezil & Ahmet Zappa | Musician Magazine
This was a good day. If I remember correctly, I think this was my last shoot for Musician Magazine. I did so many through the years and owe them big time. This shoot was special cuz I was a huge Frank Zappa fan and always wanted to shoot Frank. This was close enough. Dweezil and Ahmet were very nice and were in good spirits. They were playing and touring together their dads music at the time.
We met at Joe's Garage recording studio in the valley. Not a great location and not a lot to work with so I set up a backdrop in the parking lot. Kept it simple and had some fun. I told them I saw their dad perform twice and shared some of the photos I took.
It's sad to see the issues that Dweezil and Ahmet are having these days. It's sad to see the family messing with each other. I wonder what their dad would say. My advice is that you need to grow the fuck up and think about the big picture. STOP the greedy bullshit and think about the music! #JustSaying