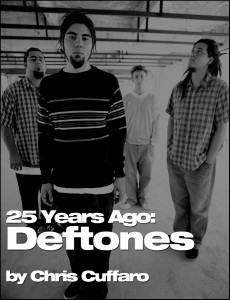 08.24.95 – Deftones | Maverick Records
This was fun!  Another great shoot for Guy Oseary and Maverick Records.  I did not know a lot about The Deftones before.  By the end of the shoot I was impressed.  Great guys, great band!  We shot all over downtown LA.  NOT the first time for that.  It was for publicity so we kept it quick and easy.  I knew exactly where to shoot cuz I've shot in DTLA for many years and knew all the best locations.
It was always a challenge shooting bands that I did not know much about.  I had to get them to relax and I had to get to know them fast!  My technique was simple… get them to talk about the music they loved.  Once I knew what they were into it made it easy for me to get them to relax and be their best in front of the camera.  I still use this technique to this day!  Everyone love music!