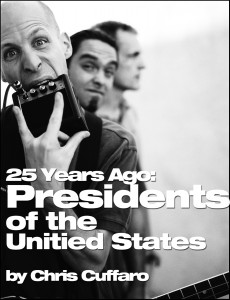 09.25.95 – Presidents of the United States | Sony Ent.
This was a quickie shoot for the band Presidents of the United States!!  If I remember right it was a publicity shoot for Sony Entertainment.  By this time the budgets were getting small and I had to keep it cheap so I had them come to my place in Hollywood.  The band was from Seattle so we had mutual friends.  Lead singer Chris Ballew was super nice and so good in front of the camera.  The band was pretty low key, but easy.
I did the shoot in my alley behind my apartment.  Kept it simple and just had fun.  I know what yer thinking… how lame is it shooting in your alley?  NOT lame at all.  I shot Nirvana, Brad Pitt and so many others there!!!  I still do shoots there to this day.  It just works, trust me it does.