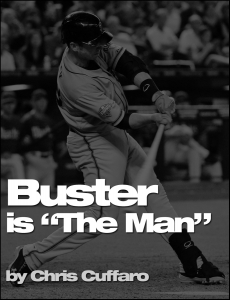 YO!  You know I love my San Francisco Giants more than any team in any sport.  You know they are the defending champions!  You know they are playing pretty well these days after a slow start.  I gotta get something off my chest cuz I'm so tired of sports reporters, ESPN and every dumb fuck on the east coast talking about how Bryce Harper is the best player in baseball.  The so-called "face" of baseball.  So not true.  If there is any player that is the face of baseball its Buster Posey!  Case closed!
The East coast bias is so fucking lame.  Its bad enough they don't talk about the Giants when it comes to being the best in baseball after winning their 3rd World Series in 5 years.  Its bad enough that they don't see how special Buster is or how much he has lead them to these 3 championships.  They don't look at his numbers, his skill as a catcher or how he does it ALL with class.  They look at Bryce's home runs, flashy play and antics.  Buster quietly has done it ALL and done it better than everyone.
Don't get me started on Mike Trout or Clayton Kershaw.  Both have NOT won shit and when they were needed most, they choked!  No matter what Buster has three rings and counting.  He is not only the face of the MLB, but they should be fucking grateful that he is.  He's NO idiot and he does NOT bring any drama to the league.  Buster is "The Man" and for ALL you east coast fucks who don't know it yet… Fuck off!  Turn off the Yankee vs Red Sox game and turn on the Giants vs Dodgers for fuck sake!  The west coast is the best coast!
P.S. And don't get me started on how GREAT Madison Bumgarner and the rest of Giants are!