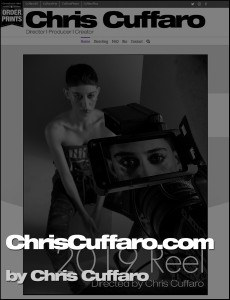 Holy fuck I did it again!  I'm excited to announce my NEWEST website to my empire… ChrisCuffaro.com.  Woo hoo!!  Why the fuck do I need another website?  Let me explain.  This is ALL about my directing career and future.  My dreams and goals is to direct & produce more.  I have the skills, vision, talent, experience and wisdom.  This is my future!!!
This site has my old music videos & my newest work I started over two years ago.  I'm working on some big ideas and projects now.  Once the coast is clear you will be seeing them come to light.  I love the process of directing and working with talented crews.  It's always a learning experience!
This site will stick to my future in directing.  You can go to my other sites for all my photography.  I'll never stop shooting!  I can't if I wanted to, but directing and producing is too much fun!!  Anddddd ACTION!!!