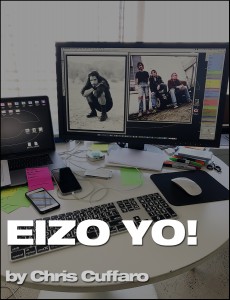 YO! I just have to do this cuz if you know me, this is what I do. A BIG shout out and thank you to EIZO APAC here in Australia. I came down here not prepared to put on an exhibition and they took great care of me for my monitor needs. The good news… this monitor is f*cking AWESOME. The bad news… now I want more for my home in Los Angeles. UGH.
What I love about this monitor is simple… it was easy to set-up, the color is perfect and my images look great! What more can you ask for? I won't name names, but the monitors I have at home can NOT come close to this quality. If yer a photographer and care about how your images look… check them out HERE!
Thanks to my friends at Pixel Perfect for the introduction and always taking good care of me. This is one of many reasons I love Australia… everyone is super supportive and puts up with me. Thanks mate!