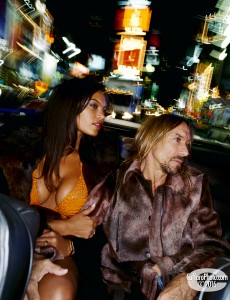 Great Moments
"We do not remember days, we remember moments." I've had too may moments to count. I've met and shot too many of my heroes. Spent time with some of the coolest people on earth. Lucky enough to have more than a few special moments. These are special moments that I will never forget and will always be grateful for. Today's GREAT Moment…
Iggy Pop | 01.30.02
I've talked about having dinner with Iggy in New York, but this story is even better. It was my last shoot with him for Stuff Magazine. The shoot was in New York. We rented a cool car for him to drive around and in Times Square. We made a few laps around mid-town and had lots of laughs. I shot him with his then grrl friend in the backseat why my assistant did the driving. We pulled over a few times and did some shots as well. This is NOT the best part.
The best part was when we were done shooting and heading back to base camp in Times Square. We were way up by Central Park driving back when I told him I had just shot Burt Bacharach. Like me, he was impressed and excited about it. His grrl friend said… WHO? We both rolled our eyes and started naming songs… One Less Bell to Answer, Raindrops Keep Falling on My Head, I'll Never Fall in Love Again and of course Alfie!!! Yes, ALFIE!!! As we hit Times Square Iggy starts singing Alfie to his grrl. I looked at my assistant and we both were fucking freaking out on the inside. Iggy rolls through the song while we get to basecamp and I'm in AWE! We get out and say our good-byes. I run to the photo editor and tell her what just happened. Of course she's jealous. It was magical and every time I'm in Times Square to this day I smile. Thanks Iggy or should I say thanks Alfie.