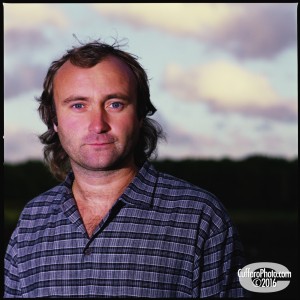 Great Moments
"We do not remember days, we remember moments." I've had too may moments to count. I've met and shot too many of my heroes. Spent time with some of the coolest people on earth. Lucky enough to have more than a few special moments. These are special moments that I will never forget and will always be grateful for. Today's GREAT Moment…
Phil Collins | 1985
My first shoot I ever got to travel on. My first trip to England and my first time shooting Phil. I flew to England from NYC. I was shooting Phil for a book on drummers for Simmons Drums. The book was called 25 Drummers Who Electrified the World. I had already shot 24 drummers and Phil was my last.
I went to meet and shoot Phil at "The Farm". This was where Genesis had their recording studio and stored all their gear. SO much great music was recorded at this studio and being a Genesis fan I felt like I won the golden ticket to Willy Wonka's factory. The shoot was so fun and easy, but I have to admit I was a bit nervous cuz it was my first trip outside the US. Phil was so nice and everyone at The Farm treated me well. The best moment was meeting Phil, Tony Banks and Mike Rutheford. I also met their legendary producer Hugh Padghem. I couldn't believe I was hanging out with Genesis. The biggest moment in my life at that point. After the shoot Phil's drum tech took me to a local pub for a pint. My first pint ever and I was shocked at how big it was. I did my best to finish it off, but it wasn't easy. I'm such a light weight.