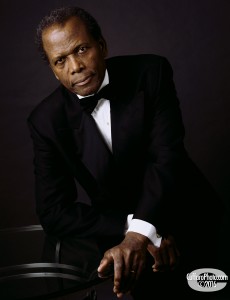 Great Moments
"We do not remember days, we remember moments."  I've had too may moments to count.  I've met and shot too many of my heroes.  Spent time with some of the coolest people on earth.  Lucky enough to have more than a few special moments.  These are special moments that I will never forget and will always be grateful for.  Today's GREAT Moment…
Sidney Poitier | 01.10.00
This one is a good one.  I got hired to shoot legendary actor Sidney Poitier for TNT Networks and the SAG Awards.  AGAIN another iconic actor that I loved and grew up watching!  So many great movies… Lilies of the Field, To Sir, with Love, In the Heat of the Night and so on.  Too many to count.
The shoot was his place in Beverly Hills.  My 2 assistants and I showed up to set up around 9:00am.  We were getting ready when Sidney walked into the room.  A great moment was when he went around introduced himself to everyone and shook our hands.  Such a pro!  The shoot went smooth and quick.  The best moment was when we were done, he came up to me shook my hand and said thank you.  I seriously almost cried.  He was so nice and everything you want in a legend.  Pure class!