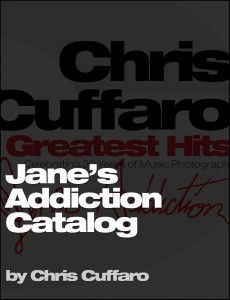 Way back in 1989 I went to Santa Barbara to see the band Mary's Danish do a show on campus at UCSB.  They were good friends of mine and opened for a band I had never heard of at the time… Jane's Addiction.  I was so into Jazz, Funk, Pop & Rock.  Seeing Jane's Addiction come on stage and do their thing blew my fucking mind!  I had never seen or heard anything like them before.  It was love at first sight and sound.  I remember coming back and telling my cool, hip, rock friends and they laughed at me.  They told me Jane's Addiction had been around for a while and I was late to the party.
My first shoot was with lead singer Perry Farrell for Exposure Magazine.  I got my iconic Jesus Christ Pose photo at the shoot, but the magazine didn't like the results so I shot him again.  This time we painted him silver and the rest is history.  
After these shoots I slowly started meeting and shooting each member for different reasons.