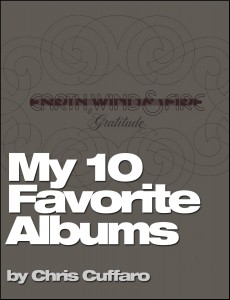 Do you own any LP's?  Any 45's?  Any vinyl?  I use to have a serious collection back in the day.  Like very serious.  And then CD's came along I spent a lot of money and time turning my vinyl into CD's!  I miss my collection and I miss listening to them.  I had a great stereo to play them on.  It was always cool to take an album out play it on my turntable.  Here's 10 of my favorites albums that I wore out.
Earth, Wind & Fire | Gratitude – The best of the best!  Can I hear you say Yeah?!?!?!?!
The Beatles | Sgt. Peppers Lonely Heart Club Band – Played it over and over.  Never gets old.
Frank Zappa | Tinseltown Rebellion – I was at the show it was recorded at.
Graham Central Station | Ain't No 'Bout-A-Doubt It – Larry Graham is god.
Return to Forever | Romantic Warrior – The greatest jazz fusion album of ALL time.  I recommend you listen to it from beginning to end.
Santana | Moonflower – I love everything about this album.  Carlos and his band at their best.  Baila mi hermana!
ABC | Lexicon of Love – To me this is the perfect album of the 80's in every way.
Tower of Power | Tower of Power – Fucking brilliant!  Their first album with Lenny Williams.  He is the voice of ToP and always will be.
Genesis | Three Sides Live – Another great live performance album.  I prefer the UK version with four sides live.
Rufus & Chaka Khan | Stompin' at the Savoy – The end of one of my favorite bands of all time.  Great performances all around.
*** I think I have another 100 more.  I might have to do more of these lists.  NOT easy to come up with just 10.  Ugh.