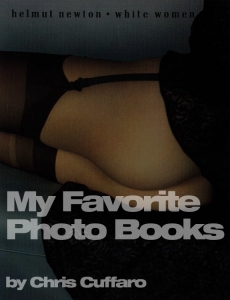 Do you own any Photography books?  Do you like coffee table books?  Do you have any favorite photographers?  I have owned and still own quite a few photo books.  I call it my library, but its not that big.  Here's 10 of my favorite photographer/photo books.  If you don't own them, find them!  You will be better for it.
Richard Avedon | An Autobiography – brilliant in every image!
Irving Penn | Passage – a serious lifetime of great photos.
Mario Testino | Portraits – love this book from a modern master.
Helmut Newton | White Women – a classic from the great one.
Peter Lindbergh | Images of Women – pure genius from one of my favorites.
Paul Jasmin | Hollywood Cowboy – a great book from a legend.
Juergen Teller | Juergen Teller – a great 1st book & always loved his style.
Richard Avedon | The Sixties – the legend at his best.
Tony Ward | Obsessions – kinky, nasty, arty porn.
Araki | Tokyo Lucky Hole – one of his many great books.