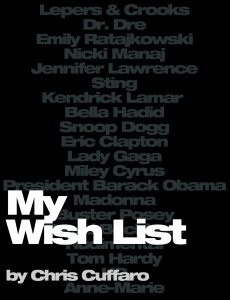 I notice these days a lot of my friends have Wish Lists for just about everything. Mostly for Amazon.com, but also for life. I've worked with and have shot so many amazing people. I've been blessed to have met and photographed many of my heroes. I still have many more to go. Here's 20 people, artist, models, bands I would love to meet and shoot someday soon. Like sooner than later…
Lepers & Crooks – My favorite new band.
Dr. Dre – I've been want to shoot him for years.
Emily Ratajkowski – Please!!! Pretty please.
Nicki Manaj – We could have fun.
Jennifer Lawrence – Yo!
Sting – Been so close so many times.
Kendrick Lamar – I'm not sure why, but I want to meet him.
Bella Hadid – I just have a feeling that we would have fun.
Snoop Dogg – Been wanting Snoop for years!
Eric Clapton – Clapton is God!
Lady Gaga – Lock me in a room with her and I know it would be brilliant.
Miley Cyrus – Good times are on my mind.
President Barack Obama – My hero!
Madonna – We could make great art together!
Buster Posey – my favorite Giant.
David Beckham – He doesn't take a bad photo.
Rudimental – Love these guys.
Tom Hardy – I like his crazy!
U2 – Been wanting to shoot them since the beginning of time!!
Anne-Marie – My number one favorite in the world today. A-M rules!