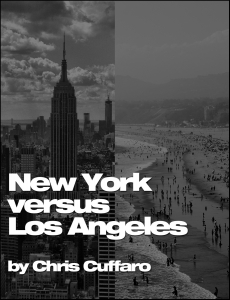 There was a time in my life that I use live half my life here in Los Angeles and half the time in New York City.  Well, not half… But a lot of back and fourth went on.  It was awesome and a lot of fun.  Having an agent in LA and NY was great cuz I got the best of both coast.  I use to work my schedule around the weather.  NY for spring and fall.  LA for summer and winter.  LA hated NY and NY hated LA, but I love them both equally.
Back in the day I loved New York for its honesty most.  Doing meetings with Creative Directors & Photo Editors was great just cuz they were honest.  If they didn't like your work they told you straight up.  It made me work harder to create work they would like and give them a reason to hire me.  In Los Angeles the Directors/Editors would tell you they liked your work to your face and then never call you.  Then you would find out later they didn't.  So full of shit.  To this day I appreciate honesty more than anything.
The other thing that I truly loved about NY for business was the quality of clients and crews.  Some of the best clients ever… Rolling Stone Magazine, Spin, Vibe, Entertainment Weekly, Sony Music, EMI Records, Virgin Records and so many more.  As for crews I was lucky enough to work with amazing stylist, make-up artist and assistants.  I always looked forward to any and ALL New York work.
Personally what I loved about New York was my friends & the food.  I have SO many favorite restaurants there its stupid.  A few of my favorites… Lucky Strike, Lucian, China Grill, Jerry's Deli and so many more.  I shared so many great fun with my friends.  I can tell you stories that would blow your mind.  Seriously, good times all the time.
Last, I'm lucky enough to still get to NYC, but not near as much.  NO matter what I have so many great memories of NYC that I will always love it and look forward to every visit.  Los Angeles is home and most likely always will be.  I will always love it and tell everyone its not better or worse that New York… They both have a place in my heart and history.