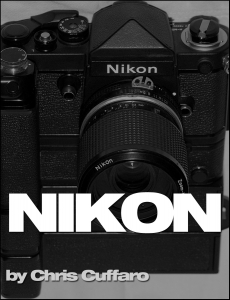 I want to take some time out and talk about my favorite cameras.  I've owned or used just about everything in the last 45 years.  My first 35mm camera I used was in 7th grade and it was a Konica T3.  Then I bought my first Olympus OM-1.  Back in those days it was an average camera for average fun.  My teacher at the time owned a Nikon F2 and that was the best professional camera of ALL and was my dream camera.  When I moved to LA full time in 1982 I bought my first one.  She was beautiful and so damn sexy.  By the time I got real serious about my Nikon system I owned 3 bodies, about 10 lenses and all the extras I needed.
I used those babies for just about everything.  They took a serious beating while shooting in the pit of every concert I covered.  I remember one time I was shooting a George Michael concert in Los Angeles and I was walking up the steps when one of my lenses fell off and went bouncing down a flight of stairs.  Of course it was fine and still worked.  Then there was a show with the Chili Peppers and some kid landed on top of me in the pit and my 35mm lens ripped completely off with the mount and rolled across the stage.  Thanks to Flea, because he kicked it back to me.
There are so many great things about my Nikon F2's… Starting with the durability, the sharp lenses and they just kicked ass.  AND in those days if you were a pro you had to use Nikon and nothing else.  My system was awesome and helped me capture some of my best moments ever!  I sold the system off years ago, but kept one body & lens as a keepsake.  Every now and then I pick it up, fire it off and just smile.  She's still the sexiest camera ever made and could kick any cameras ass!