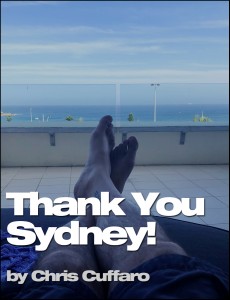 YO!  Just got back from a 2 week trip to my favorite city in the world… Sydney, Australia!  This recent trip had to be one of my favorite visits ever.  Everything was great.  My friends, the food, the meetings, the adventures and the city itself was incredible!  It couldn't have been better.
I want to thank all my friends and new friends for making my trip so great!  Your support was amazing.  I wanna shout out to Mrs. Banks Hotel, Uber, Uber Eats, Hotel Centennial and AirBnB for all the help.  BUT most of all I want to thank my favorite band Lepers & Crooks for meeting with me.  These guys rock BIG time and I cannot wait to work with them.
LAST… There is lots happening these days and I will have some BIG news soon.  2018 is looking bigger than ever!  I can't wait to share the news with you and get started!  Just be ready!!!