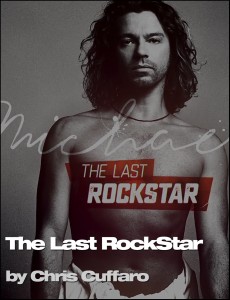 This week in Australia Michael Hutchence – The Last Rockstar will premiere on the Seven Network. It's a two night event celebrating Michael Hutchence the lead singer of the band INXS. He died 20 years ago on November 22nd, 1997. This show is not really a documentary, but more of a celebration. I was interviewed a few months ago about my shoots with INXS and Michael. It was a fun day to talk about Michael and my experiences with him. Good memories for sure.
I was lucky to meet and shoot INXS during the 1988 Kick Tour, but it was my solo shoot with Michael in 1993 for Detour Magazine that we mostly talked about. It was one of my favorite shoots of ALL time. At least in my top 10 for sure. I've talked about and written about this shoot many times. You can see my story here… http://cuffarohits.com/greatest-hits-michael-hutchence/ It was a great shoot with a great rock star!
They're using my photos all throughout the show. Makes me proud knowing that I contributed a little bit to Michael's life. Makes me smile knowing that his fans appreciate my photos and how they make them smile.
I want to thank Mark Llewellyn, Luke Blair & Danny Saber for including me in their amazing project. From what I've seen and heard so far it's pretty fucking amazing! If you're in Australia, please check it out and let me know what you think! Here's the trailer for now…