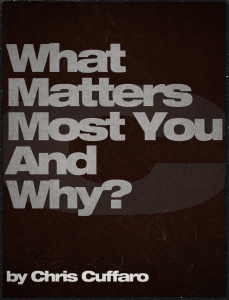 I love this question!  I was watching a YouTube video ( http://youtu.be/JYYsXzt1VDc )with my hero Marc Andreessen and some Stanford Student ask him this question and it made me think for days!  It really made me think long and hard.  Not an easy question, but a real good one.
Here's my answer… I'm not a young man anymore.  I'm not old either.  I'm in the middle of my midlife crisis and think about way too much about too much.  I'm sure I would answer this differently at different times in my life, but I'm here now.  The thing that matters most to me today is HEALTH.  Its is number one and the first 5 in my top 10 list.  These last few years I've had many crazy health issues… gall stones, kidney stones, back problems, acid reflux and more.  Basically not fun in any way.
I found out that my health is everything to me.  Without it, nothing else matters.  For the first time in my life I have to think about it and really be aware of everything I eat, do and think.  I'm talking about physical and mental health, because its all connected.  What I'm learning about me and my life is mind blowing.  I never took my health for granted, but I never had to think about it like I do today.  Having great health care is key and I wish I could afford better health care.
I'm doing my best to get better everyday.  I see my chiropractor, eating better, exercise often and get my rest.  I find that taking a day for myself for peace and quiet helps the most.  I've always been a workaholic and that will never change, but taking a bit of my time for rest really helps me work better.  I hope to have 30 more good years of creativity and health in me, but the problem is I have 50 years of work inside me that I must do.  L'chaim!!
Follow ME on Twitter!