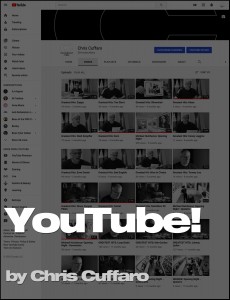 Did you know I have a YouTube channel?  Do you even care?  Does it really matter?  Well, to me it does!  I don't push it enough and I'm going to now.  I need subscribers!  I need your support.  Tell your friends!
I post my photoshoot stories, my life stories and my exhibition stories.  If you love music, photography and me, then you live my channel.  I'm working on more exciting new clips & content.  Gonna experiment on some ideas and see what happens.  Even thinking about doing live artist talks and more.  I'm just gonna have some fun and create as always.
Please check it out TODAY, subscribe and leave comments.  I need your support!  I need to make some noise and have fun doing it.  ALSO if you have any ideas or photo shoot stories you want to hear, please let me know chriscuffaro@icloud.com.  THANK YOU!