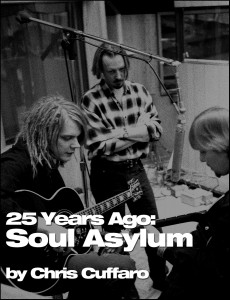 12.19.94 – Soul Asylum | Rolling Stone Magazine
This shoot was for Rolling Stone Magazine and was another fun shoot for me. Spending the day in a recording studio is and was always fun! I love the creative process. Watching & shooting musicians creating is a blessing. This time it was Soul Asylum with Butch Vig producing!!! Yes, that Butch Vig from Nirvana!!!
It was my first time meeting the band and Butch. I got to spend time watching them do their thing. It was fun, but the best part was talking with Butch about Nirvana. Since we both knew them, him more so than me. But it was fun to compare stories. The only real thing I remember about this shoot was the conversation with Butch, the band being so nice and how great it was to just hang out with them. I miss those days!!!