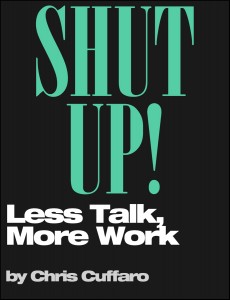 I notice a lot of people like to talk about what they are doing more than just doing it.  More than ever people are looking for validation on social media.  I've never seen so many people looking for validation and acceptance.  As human beings it nice to get validated for our work and who we are.  It feels good to have someone recognize and compliment.  I just find that more than ever because of social media people seem more desperate, hungry and needy.  
Back in the day I was told to shut up and just get the work done.  I was told that I shouldn't look for validation from anyone but myself.  I was taught not to listen to what anyone thought about me or my work.  I never looked hard for validation, but IF I did it was from only a couple people in my life.  To this day only 2 people in my life's opinion matters.
BUT I understand where everyone is at cuz I was young once.  When yer young you are learning and building.  A lot of stuff is new to you.  Yer not sure.  Yer looking for direction and understanding.  You want to feel wanted and needed.  You need to feel appreciated.  Oh wait… WE all feel this no matter what age.  I have my moments when I don't feel appreciated and it sucks.  BUT I don't look to social media for answers.  I look within and dig deep.  Then I listen.  Then I learn.  Then I do the work.