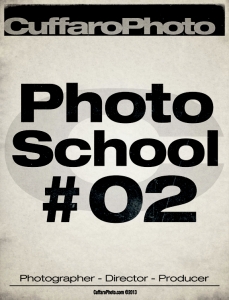 You got the job!  Woo hoo!  Now what?  I wanna give you some basic thoughts on preproduction that might help make things a bit easier.  No matter how big the job is or it might be a test shoot… preproduction is very important.  I was a boy scout for 6 months and hated every minute of it, but I learned one thing… Be prepared!  And that goes for being a photographer.
First, It starts with questions… What are you shooting?  Where are you shooting?  What's the budget?  What does the client want?  Don't forget about usage rights as well.  ASK questions!!!  Get ALL the info you can before you start your budget.
Second, budget this shoot… Even if its a test shoot, you should know your costs.  If its a big shoot then get to work.  What do you need to make this job happen???  Gear, help, location and more.  I've used producers and they are great, but I have done a lot myself.  I find my experience in doing my own budgets helped my producers do their job.
Third, surround yourself with the best!  This is something I learn many years ago and still use to this day.  Get the best assistants, make-up artists, stylist and crew you can get.  A great crew makes your life easy and makes you look good.  I can't tell you how many repeat jobs I gotten all cuz my client had a good time and got the great results they were looking for.  My crews are always the best and I'm better because of them.
Fourth, shot list is one of my fav things to do.  If I'm doing a big shoot or small shoot I always sit down and write a plan.  I like going into the shoot with the basic idea of what I want out of the shoot.  I scribble down a basic list on a yellow note pad.  I love yellow note pads cuz they are good for everything and anything!  Get your thoughts and goals down so that once you get started you have something to remind you.  We all get distracted on shoots and sometimes forget what we had planned so write it down before you start!
Last, if you are doing a job and someone is paying you lots of money for this job, please ask them what they want and need?  Ask them what are they looking for?  Your job is to get your client what they want and NOT what you want.  Prepare for this and be ready.  Its OK to try something new or test an idea out, but ONLY after you give them what they want and need.  Preparing yourself and your crew ahead of time makes the shoot/job more fun and a lot easier for sure.  Get to work!