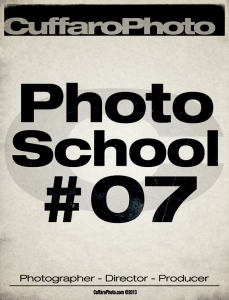 I get all sorts of people wanting to start a career in photography and asking me for advice.  Now that I've been around awhile and have seen it all, I do have lots of advice to give.  Where do I begin?  I'm gonna do a list of the top 10 things to know…
You gotta love it and live it:  There is NOT a lot of money to be made in this business.  You gotta really love photography to survive.  Passion is everything!
Business first:  Don't forget that business is the most important part!
Follow your heart:  Never give up and always do what you love!
Be nice ALWAYS: Be nice to everyone… Your clients, you talent and most of all to your crew!
Keep it simple when it comes to your art:  Don't try too hard!
Look at Learn:  Look at photos, Television, movies and anything to fill your head with images.  Go through the internet and find images that you like.  Look at everything!!!
Find a mentor/teacher:  If you can, find someone to help you learn about business, photography and life.  A good thing!
Shoot Shoot Shoot:  Shooting is like sex, the more you do it… The better you get!  Give yourself assignments!!!
Always know that you can be better:  Never stop growing and challenging yourself.  Never stop wanting to be better!  Do no settle for good.
Have fun always:  I'm serious about having fun.  I started this madness cuz it was fun and I still do it cuz its fun!  Never stop having fun!!!!