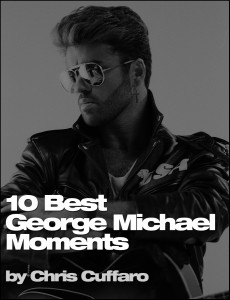 You gotta have FAITH, at least that's what I was told way back in 1988. Here's 10 great moments I had with George Michael and the FAITH Tour. Not in any real order, but just some fun moments that I will always be grateful for and never forget.
Faith video shoot – my first shoot with George!!

Such a great video and shoot.

Publicity shoot for the Faith Album – Shot all over downtown LA!

Those photos have become iconic!

Like wow!
Father Figure video shoot – 4 long days of shooting that almost killed me.

Meeting Tony Scott for the first time.
First concert in Sydney, Australia – My first trip to OZ and my first show with George!
One More Try video shoot – Shot in the Blue Mountains at some old hotel.

An amazing experience for sure. AND Tony Scott directed.
Detroit concert with Aretha Franklin – Meeting & shooting Aretha!

Holy fuck it was awesome!!!
Hawaii concert with Elton John – Meeting and shooting the show with Elton.

AND having dinner with Elton and George!!!
Editing photos w/George – Many times I would meet with him to go over photos.

Always had great conversations and good laughs.
Kissing A Fool video shoot – Shot in Vancouver!!

I was so hung over from the night before, but I think everyone was.
Hawaii party!!! – Changed my life!