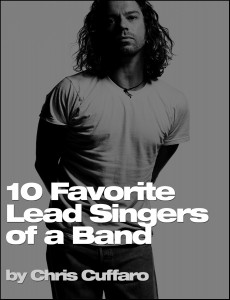 I wanna be clear on this one.  This list about the lead singer of a band.  NOT just a singer who fronts his own band.  Lead singers are more than a voice.  They have to have a stage presence and a voice!  These are my 10 favorites…
Michael Hutchence – The best of the best!
Freddie Mercury – Nobody better.
Chris Cornell – Saw him more than a few times and he ruled like no other.
Maurice White – When he leaded EW&F.
Chaka Khan – When she was with Rufus!
Layne Staley – When he was good, he was great.
Eddie Vedder – The early years for me.
Sting – From The Police to Solo.

 

Fuck YES!
Jim Morrison – The ultimate lead singer who had everything!
Robert Plant – Every man wanted to be Robert and every girl wanted Robert!