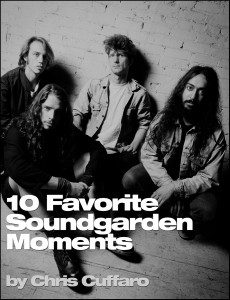 SO many moments in my life that I will always be grateful for.  So many crazy moments that I did not have a camera to record.  My moments with Soundgarden are truly special.  I loved the band and every moment I got to hang or shoot.  Chris, Matt, Ben and Kim always treated me with respect and yes, we did laugh a lot.  Here's 10 big ones…
Spin Magazine Shoot | 08.24.89 – My first shoot was a great shoot.

 

Jason Everman was the bass player at the time.

 

We shot at a studio in LA.

 

I just remember who shy they were.

 

They had their first album for A&M Records coming out… Louder Than Love.
The Whiskey Show | 12.7&10.89 – My first time seeing them live was at The Whiskey in 1989.

 

The two shows they filmed for Louder Than Live video.

 

No bullshit… they blew me away!!!

 

Chris was a god!
Creem Magazine Shoot | 08.29.91 – My second shoot was for Creem Magazine as we did it in Seattle.

 

I shot Pearl Jam before on the same day.

 

A good day for sure.
Rckandy Show | 08.30.91 – They did this show before Badmotorfinger came out.

 

I went with Eddie Vedder and Beth Libeling.

 

My first time bouncing around a mosh pit.

 

Didn't bring a camera… kill me NOW!
JCP Video Shoot | 09.08.91 – Shot out in the desert!

 

I had not slept for days and drove out there alone to meet the band & production.

 

A great day, but I was exhausted.

 

I couldn't drive home at the end of the day so Chris & his wife Susan drove me back to LA while I slept in the back.

 

Reflex Shoot | 09.29.91 – Back up in Seattle.

 

We just hung out and shot pix.

 

SO fucking casual and fun.
RIP Magazine Party | 10.06.91 – At The Paladium in LA.

 

Featured Alice In Chains, Pearl Jam, Soundgarden, Temple of the Dog and Spinal Tap.

 

Yes, I said Spinal Tap.
Venture Theatre | 01.29.92 – The only time I shot the band live and my favorite theatre.

 

A great show in every way and I got the photos to prove it.
Lolapalooza | 09.11.92 – I went to the show just to hang out with friends and see them play.

 

I ended up on the side of the stage and shot a roll or two while Soundgarden performed.

 

RIP Magazine Shoot | 12.06.93 – By this time Chris had cut his hair short.

 

Did not like it!

 

I hadn't seen them in a while and it was great to catch up.

 

We did the shoot at A&M Records sound stage in LA.

 

Block from where I lived.